Lots of famous names either did ballet when they were younger - or currently do ballet to help in other areas... if you can add a name to our list, please leave a comment.
---
Christian Bale
is a prolific actor in Hollywood and the current Batman. His films include
American Psycho
,
Reign of Fire
,
The Dark Knight
and
Batman Begins
(full list
here
).
Bale has spent most of his life in the public eye, first becoming known aged just 13 for his role in Stephen Spielberg's Empire of the Sun. Since then his fame has grown and grown and he has given thousands of interviews... not many people know, however, that Bale studied ballet as a boy - his sister even says he was offered a place at the Royal Ballet School.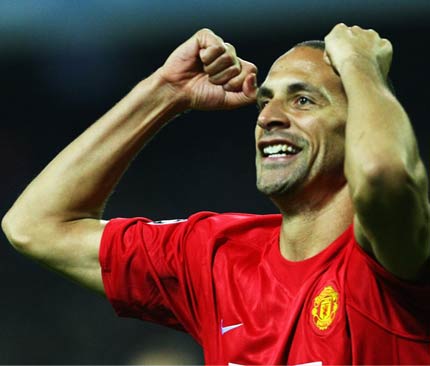 Rio Ferdinand
is captain of the English football team and centre back for Manchester United. His football talent was obvious from a young age (he was invited to join the Queens Park Rangers Academy at 10); but he also was a gifted dancer. His father encouraged him to begin dancing and he won a scholarship to the
Central School of Ballet
, London when he was 11. He pursued his dancing for 4 years until football took over as his career.
In a recent interview, Ferdinand said ballet helped him develop as a footballer as he had to improve his balance and timing, saying: "It's elegant and you have to be flexible."
Jean-Claude Van Damme
is one of the world's most famous action film stars. Van Damme started karate when he was 10 and made the Belgian team a few years later. He moved into the full-contact karate scene and saw great success winning 18 out of 19 fights. He retired from fighting at only 19 to move to America and focus on a career in films. He ended up starring in several major hits which featured his martial arts skills, including
Bloodsport
,
Cyborg
and
Kickboxer
(
full list
).
Van Damme took up ballet when he was 16 to help his fighting. He recently said that ballet was key to his success because it gave him grace and flexibility. "Ballet is an art, but it's also one of the most difficult sports. If you can survive a ballet workout, you can survive a workout in any other sport."
Tupac Shakur
was a rapper who sold over 75 million albums - the second top-selling rap artist after Eminem.
Shakur was born in New York where he showed early promise as an actor. He later enrolled at the
Baltimore School for the Arts
where he studied acting, poetry, jazz and ballet. He even performed as the Mouse King in a production of the
Nutcracker
. Meanwhile his rapping career was taking off and he became enormously successful, despite his frequent trouble with the law. Sadly his life was cut short when he was just 25 after being hit in a drive-by shooting.
Ron Reagan
is the son of former US president, Ronald Reagan. Reagan dropped out of Yale University to pursue his lifelong dream of becoming a ballet dancer and joined the
Joffrey Ballet
. After his father left politics Ron moved out of ballet and into journalism and political commentary where he works to this day.
Will Young, the singer and first winner of the first Pop Idol, was reported in the UK press to be taking ballet classes 3 times a week. "The gym is so boring," he explained. "Ballet keeps me toned and I really enjoy it."
Rahm Emanuel
is the current White House Chief of Staff (i.e. senior aide to President Obama). He started ballet as a boy after being encouraged by his mother, taking classes at
Evanston School of Ballet
. He later turned down a scholarship to the
Joffrey Ballet
to go
Sarah Lawrence College
, a college of higher education with a strong dance programme. He chose to move into politics rather than pursue ballet as a career.
The London Olympians
are a leading British American Football Team who have won the British League several times (and with several unbeaten seasons). Their coach Stephen Marcus decided to introduce ballet as part of the team's training to improve footwork, balance and agility. He said, "When I first heard of this idea I thought it was a joke but having done some research of my own it makes perfect sense."